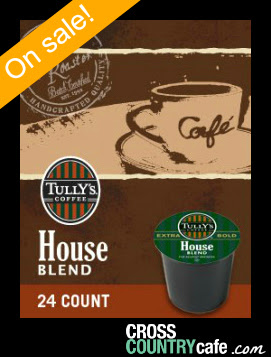 The number one complaint that we hear from Keurig users is that the coffee tastes weak. Our response? You haven't tried the right roast yet!
Keurig offers an entire line of extra bold K-cups that contain 20% more coffee than standard varieties. One of the best is Tully's- a name synonymous with extra bold K-cup coffees! Your readers will love this opportunity to stock up and save on a K-cup coffee that provides a full bodied, high quality cup of coffee!
Wacky Wednesday Weekly Coffee Sale! Every Wednesday we will post a totally wacky sale price on a variety of coffees including Keurig Kcups and Nespresso compatible capsules. Dont forget shipping is free when you spend $59. or more!
Tully's House Blend Extra Bold Keurig K-cup coffee is on sale for $11.99 per box of 24! and for your tea drinkers…
Twinings earl Grey Keurig K-cup tea is on sale for $9.99 per box of 24!
the latest brewing technology…
Newman's Own Special Blend Organic K-carafe coffee is on sale for $7.99 per box of 4!
and last but not least…
Times Square Hiline Coffee Nespresso compatible pods are on sale for $4.99 per box of 10!
But wait, there is more…this months giveaways are live!
Monthly Keurig K-cup coffee giveaway- each and every month we will be giving away full size boxes of Keurig K-cup coffee to one lucky winner!
and/ or…
Win seven boxes of Hiline coffee Nespresso compatible capsules! enter to win 1/1/15- 1/31/15.