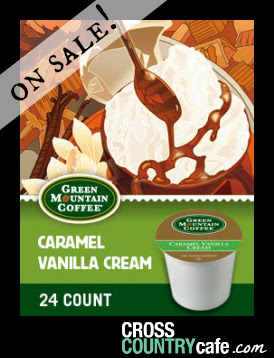 The Black Friday deals just keep coming but first, Wacky Wednesday must go on! This week we have a delicious flavored Keurig K-cup coffee that will appeal to the masses!
Wacky Wednesday Weekly Coffee Sale! Every Wednesday we will post a totally wacky sale price on a variety of coffees including Keurig Kcups and Nespresso compatible capsules. Dont forget shipping is free when you spend $59. or more!
Green Mountain Caramel Vanilla Cream Keurig K-cups are $11.99 per box of 24!
and…
Twinings Earl Grey Keurig K-cup tea is on sale for $9.99 per box of 24!
And last but certainly not least, don't forget about our month long Black Friday blowout sale!!
Month long Black Friday Blowout sale!
Deal #1-4 are already posted and selling well, Deal #5 will be live at midnight tonight EDT and it is a *HOT* one!
Radiant Orchid Contigo Travel mugs are on sale for $16.99 each- a $3.00 savings!
In case you are not keeping track, we are up to a potential savings of over $20.00 in our Black Friday sale…and we have only just begun!