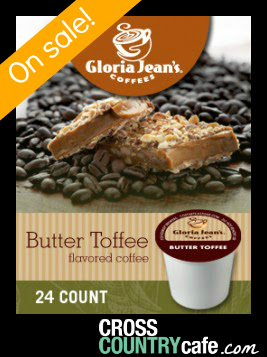 Green Mountain Butter Toffee Keurig K-cups are $11.99 per box of 24!
Wacky Wednesday Weekly Coffee Sale! Every Wednesday we will post a totally wacky sale price on a variety of coffees including Keurig Kcups and Nespresso compatible capsules. Dont forget shipping is free when you spend $59. or more!
Gloria Jeans Butter Toffee Keurig Kcup coffee is a medium roast, flavored Kcup coffee. From the second you push brew aromas of caramel float through the air. This is a light bodied coffee with intense flavor. Buttery toffee compliments the natural coffee flavors. If you are a lover of flavored coffees. look no further, you have found your perfect Kcup!
and…
Diedrich French Roast Keurig K-cup coffee is on sale for $9.99 per box of 24!
If you like your coffee dark and toasty but not bitter or burnt, then Diedrich Coffee's French Roast K-Cups are just right for you. Made from a blend of Arabica beans that lend themselves to a strong dark roast, this French Roast has a touch of molasses that is deeply satisfying.
And last but not least, Broadway Nespresso compatible coffee capsules are on sale for $4.99 per box of 10.
A dark roast gourmet espresso blend with a 9/10 intensity offering sweet fruity flavors with a tart finish. This is a full bodied roast with medium acidity.
Prices will be live on Wednesday at 12:01am EDT and will expire next Tuesday at 12 midnight EDT.
Don't forget there is still time to post our FREE Christmas coupon book that contains a special bonus savings code (expires Dec. 24th) for your readers and a 45 day cookies for you!
Free printable Christmas coupon book- bonus code included to save 10% on Keurig K-cup winter favorites!