Wacky Wednesday Weekly Coffee Sale! Every Wednesday we will post a totally wacky sale price on a variety of coffees including Keurig Kcups and Nespresso compatible capsules. Dont forget shipping is free when you spend $59. or more!
Donut House Collection Chocolate Glazed Donut Keurig K-cups are $11.99 per box of 24!
Chocolate Glazed Donut is a combo that's hard to resist. A fresh chocolate donut, topped with a sweet, sugar glaze, dunked into your mug. All coffee. No crumbs.
After our most successful Black Friday sale EVER we are pumped up and ready to do even better in December. We are starting off with a high selling flavored Keurig K-cup coffee at a price that will leave your readers ready to stock up and save while they can!
and…
Diedrich Morning Edition Keurig K-cup coffee is on sale for $9.99 per box of 24!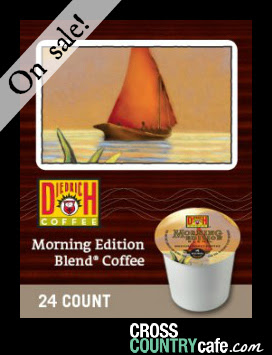 Worth waking up for, Morning Edition K-Cups from Diedrich Coffee give you a cup of full bodied medium roast Arabica coffee with hints of creamy vanilla, and leathery spicy aromas. A great way to start your day.
And last but not least, Central Park Decaf Nespresso compatible coffee capsules are on sale for $4.99 per box of 10.
Prices will be live on Wednesday at 12:01am EDT and will expire next Tuesday at 12 midnight EDT.