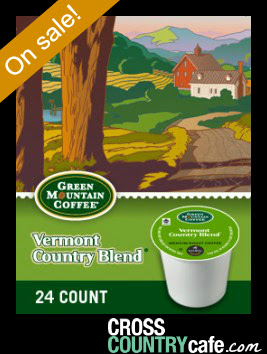 There is one K-cup that we recommend over and over when asked for coffee suggestions and it is always a hit. Vermont Country Blend is a staple in any K-cup drinkers collection. From light to dark roast fans, everyone seems to love it! The best news is- it is on sale! Vermont Country Blend Keurig K-cup coffee is on sale for $11.99 per box of 24!
Wacky Wednesday Weekly Coffee Sale! Every Wednesday we will post a totally wacky sale price on a variety of coffees including Keurig Kcups and Nespresso compatible capsules. Dont forget shipping is free when you spend $59. or more!
Vermont Country Blend is a mixture of light and dark beans. The result is coffee that is sweet, rich and aromatic, with a pleasant lingering finish. This coffee is one of our most popular blends.
And for another exceptional value…
Diedrich Morning Edition Blend Keurig K-cup tea is on sale for $9.99 per box of 24!
Worth waking up for, Morning Edition K-Cups from Diedrich Coffee give you a cup of full bodied medium roast Arabica coffee with hints of creamy vanilla, and leathery spicy aromas. A great way to start your day.
Let's not forget about our espresso lovers!
Wall Street Nespresso compatible Hiline coffee capsules are on sale for $4.99 per box of 10!
A dark roast gourmet espresso with a strong 10/10 intensity offering a creamy, nutty taste with a smooth finish.
But, wait there is more! In case you missed it, this months Keurig K-cup giveaway is live. This is a great opportunity for easy content that your readers will love!
Monthly Keurig K-cup coffee giveaway- each and every month we will be giving away full size boxes of Keurig K-cup coffee to one lucky winner!